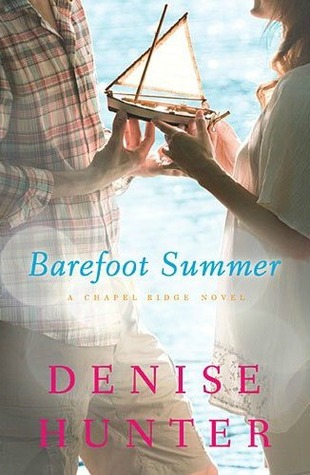 Barefoot Summer by Denise Hunter
This was a good, enjoyable book. I believe it's the first book I've ever read by this author. Madison is still grieving for her identical twin brother who died from a diving accident ten years ago. Her brother had a dream of winning the sailing regatta in their small town of Chapel Springs before his 27th birthday. Madison is about to turn 27, and she wants to win the regatta in her brother's memory, hoping the win will make her feel better.
If she wins, the nightmares about her dead brother might stop. Maybe, she can now rest and get a full night's sleep instead of being tired all the time.
Due to a strange set of circumstances, Beckett, someone whom Madison has been crushing on for years, has been assigned to give her boating lessons. Beckett kissed Madison once in high school, but, he knows she's way out of his league. Madison is from a "normal" supportive, happy family. Her family isn't twisted and dysfunctional like his. She doesn't have an imprisoned alcoholic dad or a grandfather who suffer's from memory loss. He can't act on his attraction to Madison, can he?
I like how the characters in this book were two polar opposites who were attracted to one another. This book is also about conquering your fears, learning to move forward after tragedy. Overall, a wonderful read.