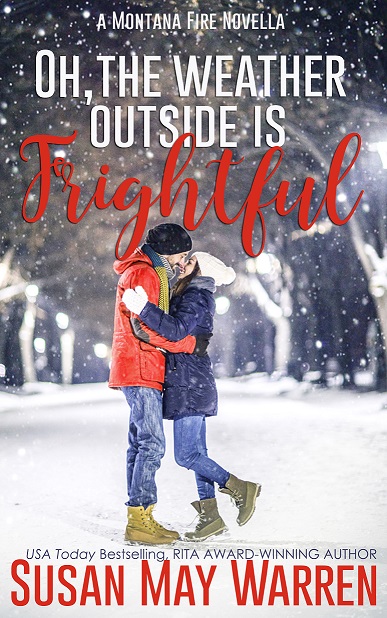 Oh, The Weather Outside Is Frightful by Susan May Warren
Have you ever suffered from a tragic or traumatic experience, and the backlash of that incident made you fearful – too fearful to move on with your life?
Hannah and CJ have been through a traumatic experience. Smoke jumpers, they've almost lost their lives and since CJ is still recovering, he doesn't feel ready for a relationship. He takes prescription drugs to deaden the physical pain that still haunts him from the incident. He speaks to his buddy Hannah online via the game that they play. How can he find the courage to tell Hannah his true feelings?
Hannah is determined to set things right. Scared, she's haunted by a past experience. She doesn't trust herself NOT to make a mistake as a nurse. Can she learn to overcome her fears?
An invitation to a mutual friend's wedding put Hannah and CJ into direct contact with one another. A big snowstorm and a stranded stranger are just two of many elements that make this book a satisfying Christmas read. If you like short, snowbound, holiday stories then you should give this one a try. It's a slightly suspenseful and quick read.
Have you ever been too scared to move forward with your life after a tragic experience? How did you overcome your fear?